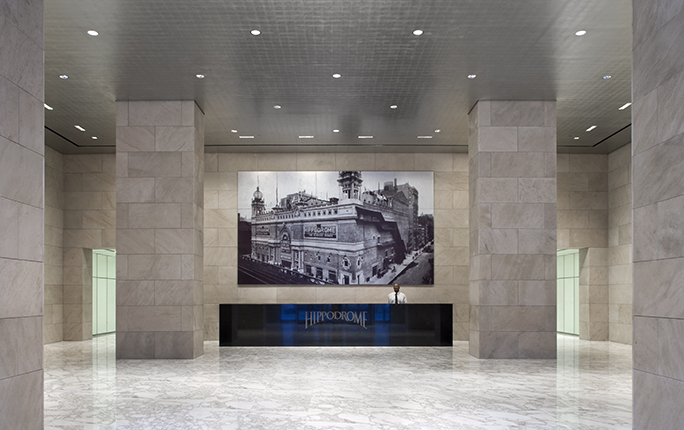 Different Formations and Uses of Limestone
Monday September 16, 2019
Used for centuries as the primary building material for landmarks as old as the Great Pyramids, the Pentagon, the White House, and the Empire State Building, limestone surpasses any other stone in beauty, elegance, longevity, and durability. It continues to be the preferred choice in both interior design and the construction of commercial buildings and private residences.
There are two primary limestones used in modern-day building – Dolomitic Limestone and  Oolitic Limestone. Both offer strength and beauty both for interior and exterior projects. The two limestones vary visually, as well as in a few other subtle ways. 
Dolomitic Limestone – Vetter Stone's Minnesota Quarry
Dolomitic lime develops from deposits of calcium carbonate combined with magnesium carbonate and contains higher levels of magnesium than calcitic lime. The Minnesota Dolomitic limestone encases fossilized evidence of living organisms. This creates engaging textures in the stone along with warmth and authenticity to create unique architectural designs. Sourced by designers and architects for its strength and versatility Dolomitic limestone is beloved for its luminous colors and soothing and harmonious tones. 
Dolomitic limestone has outstanding freeze-thaw durability and is naturally solar reflective. This is particularly important in limestone for outdoor use, especially as patio pavers. It is also slip-resistant, a great safety measure in pool areas. A leading choice for contractors, owners, and installers, Dolomitic limestone is easy to care for, resistant to climatic conditions, and environmentally friendly.  
Oolitic Limestone -Vetter Stone's Alabama Quarry
Oolitic limestone develops by small spheres, ooliths, that adhere together by lime mud. As sand grains roll around on a shallow seafloor, ooliths form from the deposit calcium carbonate on the grains of sand. Oolitic limestone is known for its beauty, longevity, and value in both traditional and contemporary designs. It has a light grey to a white background with silver shadow veining and is easily machined giving it versatility and the opportunity for sophisticated detailing. The reserves of Alabama Silver Shadow limestone are unlimited which allows for matches to existing work far into the future. 
Because Oolitic limestone is mined underground, there are no seasonal delays. The gentle veining in the stone makes it ideal for grand-scale dimensional stonework. The look of Oolitic limestone is timeless and distinctive.
A fourth-generation family business, Paul J. Vetter, Sr. and his four sons founded Vetter Stone in 1954. Vetter Stone has earned a reputation through a simple philosophy – consistent high-quality stone, expert technical precision, and superior personalized service. Vetter Stone has quarried, crafted and shipped limestone from their two premier quarries in Southern Minnesota and Alabama to projects all over the world. Explore more on their website, Facebook page, or call (507) 519-0714 for more information.
Sources:
https://artisanstone.com.au
https://www.britannica.com
https://www.sandatlas.org/limestone/