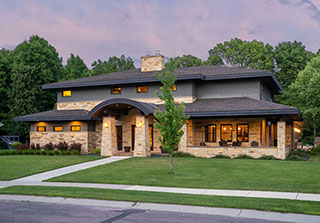 Splitface
A rough, textured face that is achieved by mechanically splitting a block to expose a coarse face. The splitting process breaks the stone along its natural cleavage lines to create an innate, cleft-face finish. The edges are trimmed in assorted sizes to create various patterns and combinations. Split face material can be produced in either full-bed or thinstone applications.
Typical Applications: Exterior Facades & Cladding, Interior Finishes, Column Wraps, Fireplaces, Accent Walls.
*Vertical installations only.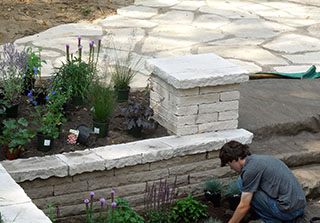 Pavers
Surface material made of stone pieces that vary in size and shape and are finished to suit exterior, horizontal surfaces.
Typical Applications: Patios, Walkways, Driveways, Pool Decks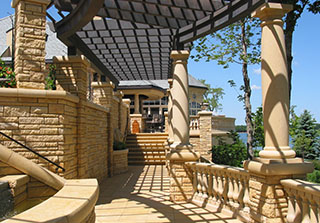 Custom Cut
Stone blocks are cut and crafted to meet any custom size, shape, profile, and finish. Each piece is one-of-a-kind and created to meet specified needs.
Typical Applications: Columns, Cornices, Balusters, Countertops, Address Plates, Fireplace Hearths/Mantles/Surrounds, Door & Window Sills & Surrounds, Pavers & Flooring.
*Vertical & Horizontal Installations with appropriate finish and sealer.